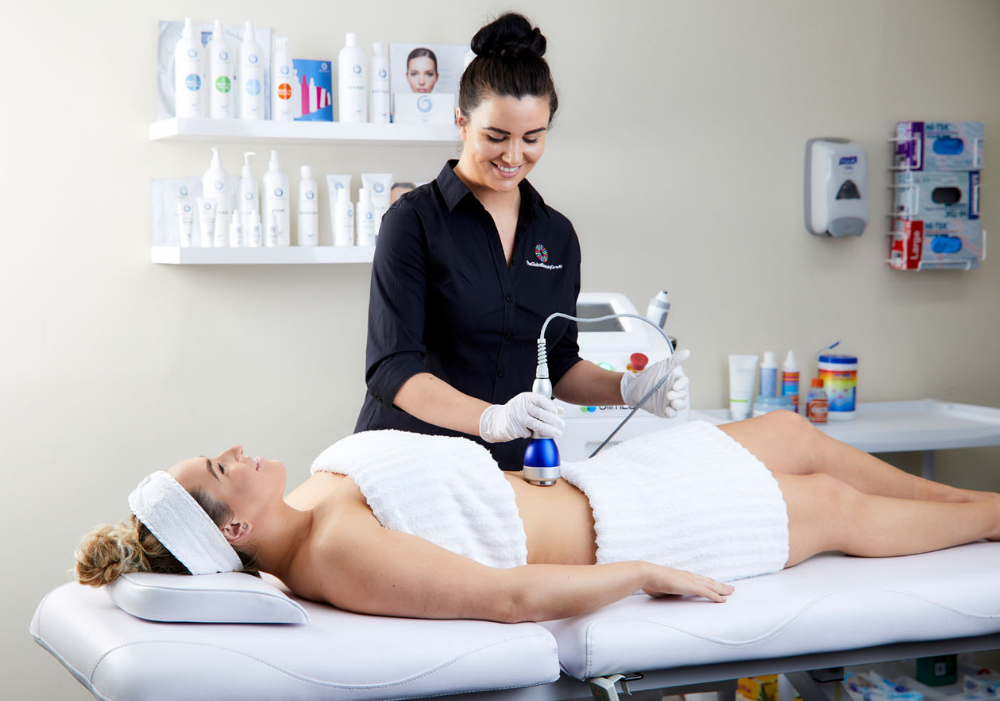 Body Contouring
Body Contouring technology works to improve and enhance the shape of the silhouette through targeted body sculpting, toning and lifting.
Call AU
1300 655 013

, NZ

0800 398 749


or click here for a free, no obligation quote
The Global Beauty Group
Client Experiences
Benefits Of Body Contouring
Body Contouring machines enable superior results on traditional face and body improvement treatments and unlike invasive procedures, requires no anesthesia or downtime following treatment so clients are free to get on with their day as usual.
Treatment is completely comfortable and spaced at weekly intervals in order to allow the cavitation process to take full effect.
The number of sessions required will vary depending on the client's individual needs and the area being treated. All of our body contouring machines are of the highest professional quality and come with included comprehensive device training to ensure therapists can confidently, and skillfully, deliver outstanding body enhancement results for their clients every time.
Best Price Guarantee* Call Today!
Benefits of Radio Frequency Skin Tightening 
Radio Frequency (RF) skin tightening is an ideal treatment for clients who are dealing with loose, sagging skin and/or fine lines and wrinkles, but don't want to go down the surgery path. Nowadays you'll find RF Skin Tightening treatments available in many salons, medispas and skin clinics that wish to tap into the rising demand for non-invasive skin tightening and rejuvenation for the face and body.
Fundamental Requirements of a Body Contouring Machine
Full coverage to treat all of the most commonly requested areas
Offers specialised face and body lifts such as décolleté firming and postnatal tummy tightening without the pain, cost and hassle of surgery
Easy navigation to perform treatments with speed, accuracy and ease
Partnering Body Contouring Services 
Bundling services can be a tremendous benefit to any business. The same theory can be used in your salon or clinic business when it comes to partnering specific services with other services that you offer.
If your business has a body contouring machine then you know you can benefit from a quick return on investment with one convenient machine. Adding additional aesthetic procedures to your service menu, when you're already offering fat cavitation treatments, opens your business up to a plethora of revenue. How can partnering fat cavitation machine services with other treatments benefit your business?
Bundling these services with other services can get new clients in the door. Lots of businesses are offering body treatments, but if you're looking to stand out among the crowd, partnering these services with another treatment can make your business seem more appealing. People love a deal. Say for example, you partner a body contouring machine treatment package with a free session of IPL treatment. Since treatments with an IPL machine require several sessions, you'll not only gain a new client for fat cavitation services, BUT you could get a repeat client for other services that you offer as well.
Body Contouring Machines From The Global Beauty Group
Whether you already offer additional services aside from fat cavitation machine treatments, or you're looking to purchase another machine that provides effective aesthetic services, there's additional revenue to be found through bundling. When you purchase a machine from us, you get built-in training, advisement, and marketing support. Contact us today to learn more!
Beauty Equipment Sales and Financing
Please also view our Sales and Financing options for a solution that works for your salon, or call our team of experts now on AU 1300 655 013 or NZ 0800 398 749 and let us help tailor a custom made solution to suit your individual business and budget.

The Global Beauty Group Best Price and Quality Guarantee
Experience our fully comprehensive and personalised customer service and see for yourself why The Global Beauty Group is Australia's premier aesthetic beauty equipment supplier.
Call us now for a free, No obligation quote on AU 1300 655 013, NZ 0800 398 749