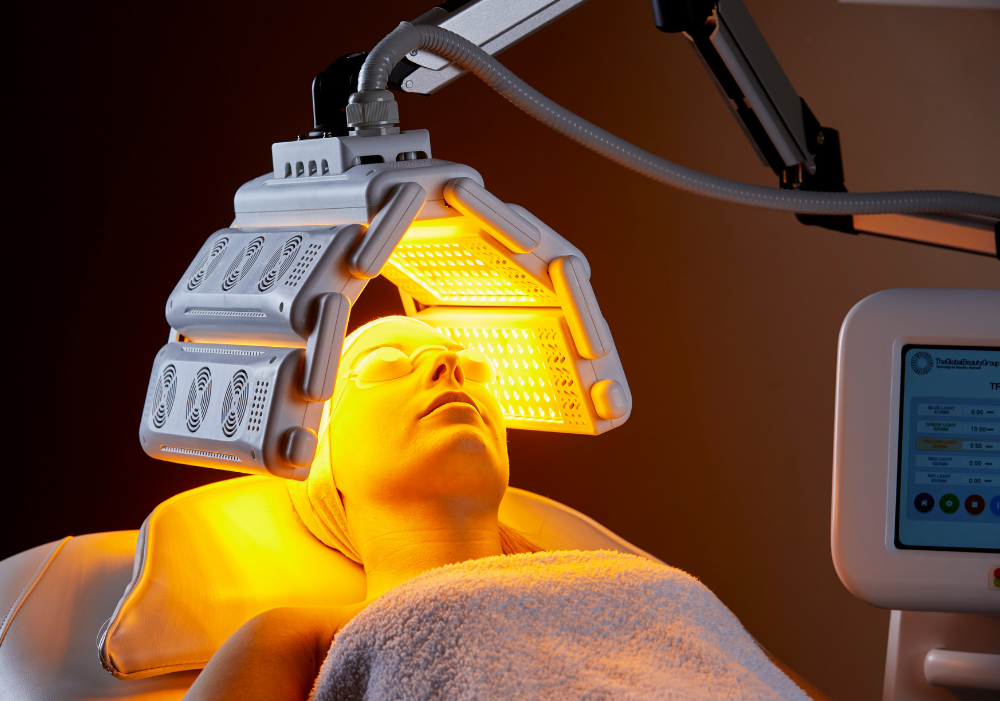 LED Machines
LED, which stands for light-emitting diode is becoming more and more prominent in salons, spas, clinics and practices as a hi-tech facial treatment for rectifying common skin concerns.
Scientific studies have demonstrated how specific wavelengths of coloured LED light offer a range of healing and regenerative benefits for human cells, resulting in a rapid spike in demand within the cosmetic and aesthetics industry for LED systems that can assist with the promotion of skin health and skin preservation.
Call AU
1300 655 013

, NZ

0800 398 749


or click here for a free, no obligation quote
The Global Beauty Group
Client Experiences
Active benefits of LED light colours
Blue light for skin clearing
Red light for address the signs of ageing
Green light for skin tone correction
Yellow light for hydration
Near-Infrared for healing
Best Price Guarantee* Call Today!
Deliver Industry-Leading LED Treatments
Fundamentals of ensuring your LED Light Therapy Machine delivers consistently outstanding results include:
Offers a range of LED wavelengths for ultra-comprehensive skin corrective treatments
Pre-set facial settings enable quick and easy touch-and-go treatments for busy skin therapists
Delivers maximum, hands-free treatment coverage to the face, neck and décolleté
Convenient hands-free treatment allows therapists the freedom to multi-task during treatment sessions
Easy-to-use, LCD touch screen control panel makes treatment set up quick, clear and hassle-free for LED operators of all skill levels
Adjustable treatment settings to tailor treatments to individual client needs
LED Layering For The Ultimate High-Tech Facials 
More and more clients are in search of that all-encompassing facial that will impart immediate lift and glow before a special event – such as a wedding, reunion or for when a great impression is needed. The addition of a LED light therapy machine is an ideal way to unite all the best skin care components to craft the ultimate layered facial.  Here is one of our favourite treatment recipes, but we encourage you to get creative and explore a myriad of options:
Step One: Reveal brighter, fresher skin with a microdermabrasion machine.
Step Two: Nourish and invigorate with oxygen therapy.
Step Three: Soothe and rejuvenate with LED therapy.
When used in conjunction with microcurrent facial toning, the results are even more dramatic.
Complementing IPL Or Laser Perfectly
With its ability to heal and calm inflamed skin, LED light therapy is an effective and highly recommended add-on to services delivered with an IPL machine. To put it plainly, there is no downtime or downside to LED light therapy.  The initial investment will pay off in no time as LED is appropriate for all skin types.  There is no possibility of skin damage and aesthetician of all skill levels can perform LED therapy with ease.
The Global Beauty Group LED Light Therapy Machines For Sale 
Stand out as a leader in facial skin rejuvenation and regeneration
LED light therapy machines dramatically increase your catalogue of treatments for the face, neck and décolleté. These machines will enable your practice to offer straightforward facials to clients who want to enjoy the latest scientifically-proven skin treatments and those who simply want in on popular LED treatments.
Like our entire range of technology, our LED Machines include comprehensive training, marketing, technical and clinical support to ensure you maximise your investment at every stage.
Beauty Equipment Sales and Financing
Please also view our Sales and Financing options for a solution that works for your salon, or call our team of experts now on AU 1300 655 013 or NZ 0800 398 749 and let us help tailor a custom made solution to suit your individual business and budget.

The Global Beauty Group Best Price and Quality Guarantee
Experience our fully comprehensive and personalised customer service and see for yourself why The Global Beauty Group is Australia's premier aesthetic beauty equipment supplier.
Call us now for a free, No obligation quote on AU 1300 655 013, NZ 0800 398 749