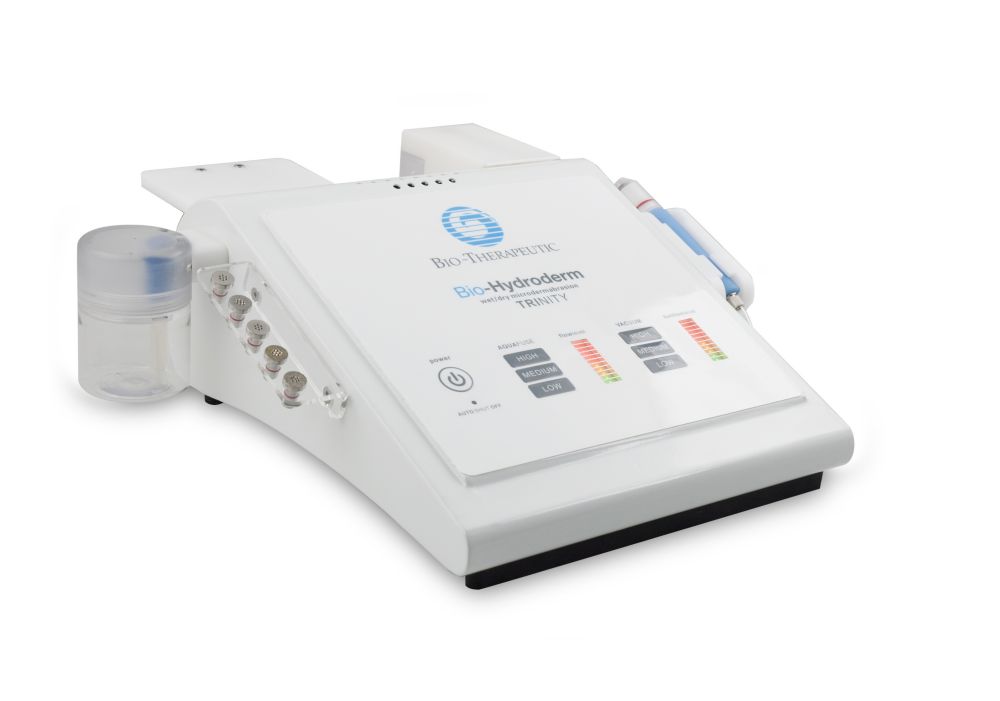 Bio-Hydroderm™ is the next generation of microdermabrasion.
A system that combines diamond tip exfoliation, liquid exfoliation, skin cooling and skin hydration for an immediately visible improvement to your skin with no downtime.
The Bio-Hydroderm™ handpiece buffs away dead skin cells using a diamond exfoliation disk chosen to match your client's skin type and goals.
The Bio-Hydroderm™ simultaneously cools and infuses the skin with advanced AQUAFUSE™ solutions matched to your client's skin's needs, resolving skin issues such as dryness, ageing, fine lines, acne, hyper-pigmentation and excess oil from the very first treatment.
More gentle than conventional microdermabrasion, Hydrodermabrasion is non-irritating with clearly visible results.
Call AU
1300 655 013

, NZ

0800 398 749


or click here for a free, no obligation quote
Download our complimentary
2018 Technology Guide
Next-Generation Exfoliation Technology
Hydro-Microdermabrasion combines tried-and-true microdermabrasion exfoliation technology with ultra-hydrating fluids, targeted to address your skin concerns. These penetrate deep into your skin, allowing your skin cells to drink in all the nourishing ingredients needed for a fresh and healthy new beginning. The results are smooth, thoroughly exfoliated, hydrated, youthful looking skin, without the mess and irritation that can sometimes accompany microdermabrasion.
Applications
AQUAFUSE Hydrating Microdermabrasion Facial
AQUAFUSE Clearing Microdermabrasion Facial
AQUAFUSE Brightening Microdermabrasion Facial
Standard Microdermabrasion Facial
Express Microdermabrasion Facial
Microdermabrasion Treatment Upgrades And Add-On's
Best Price Guarantee* Call Today!
Specifications
Voltage: 110V
Power: 240 VAC 50/60Hz
Max Power Consumption: 160W
Weight: 6kg
Size: 8.27" x 12.60" x 7.48"
Accessory Package
bt-Micro™
bt-Analyze™
bt-Zoom™
2 Handpiece sheaths
2 Bio-HydrodermV2™ tubing sets
1 Handpiece
1 Bio-HydrodermV2™ waste bottle
5 Diamond Tips: 80, 100, 250, 300 & 400 grit
Beauty Equipment Sales and Financing
Please also view our Sales and Financing options for a solution that works for your salon, or call our team of experts now on AU 1300 655 013 or NZ 0800 398 749 and let us help tailor a custom made solution to suit your individual business and budget.

The Global Beauty Group Best Price and Quality Guarantee
All customers can rest assured that we deliver the highest quality products at the lowest prices, guaranteed! We guarantee to beat any genuine competitor's quote on our full range of products, so talk to one of our friendly consultants today. Experience our fully comprehensive and personalised customer service and see for yourself why The Global Beauty Group is Australia's premier aesthetic beauty equipment supplier.
Call us now for a free, No obligation quote on AU 1300 655 013, NZ 0800 398 749